ACCROchet.  In French, ACCRO means addict.  I am a crochet addict.  And am I attempting to hide it?  Gawd no; quite the opposite!  I publish my personal brand of crazy everywhere and for all to see!  And I trust/hope you'll join me.
Grab your hooks, people; we're going to reshape the world one half-double at a time.
SERVICES
In-store and/or private classes
Personalized workshops to suit your skills and interests.
Pattern translation
Original patterns & custom orders
Crochet nights, the stitch n bitch way.
And so much more!
WHO I AM
Behind ACCROchet you'll find a 30something (or 40minussomething, depending on your choice of half-empty or half-full) woman named Julie.
My familia holds many people together : Miss ACCROchet, a typical preteen girl – my most favorite FO ever; The Man, a young stud who inspires and pushes me forward; Ti-Cul (untranslatable; litterally means Short-Ass, but is used as a term of endearment in zee French), The Man's son – half-boy half-monkey (Seriously, do boys ever sit still? Ever?); Mystère (Mystery – a female short-haired cat with uh… super long black cat hair and male cat balls. Hmpf, figures); Charlie Calypso, Intrépide Pirate à l'œil bleu (Intrepid blue-eyed pirate – a dogponey weighing 70 pounds but convinced she can't be over 10 or 12); and Sookie (basically Rain Man in dog form).
I keep all these lovely people and pets far, far away from my yarn and hooks.  Well, aside from The Miss who will periodically join me in the madness of a few stitches, or sometimes (!) even an entire FO.
We all live in a pretty blue house in the boonies known as Two Mountains (And would you kindly point me in the direction of said mountains; I am sorely disappointed).
During the day, I am a Marketing and Communications professional.  At night, I make magic.
Introverted, but so annoying you'll never believe it, I read my weight in books each week, write when I find the time to, and I crochet – A LOT.  I've also recently discovered cooking, but no extra time so the hooks asked me to politely decline.
10 years ago today (no matter when you read this, it'll always be 10 years ago today) I picked up 2 knitting needles and some yarn my mom had laying around, and I decided to teach myself to knit.  22 minutes later, stressed and discouraged beyond belief I threw the needles across the room and wallowed in self-pity.  But then… then I talked to an American friend who was crazy about crochet and she showed me that all I needed was one less tool!  Crochet has evolved, has made itself over and is the current up-and-coming fiber star.   It is modern and trendy.  And so tragically misunderstood.
That is why ACCROchet was born.  To break taboos and silence ugly rumours.  To show the entire world what we can do with just a little piece of wood or plastic or metal no bigger than a pencil.  I love to see things connecting in my students' eyes.  I love to create jaw-dropping items.
I love crochet.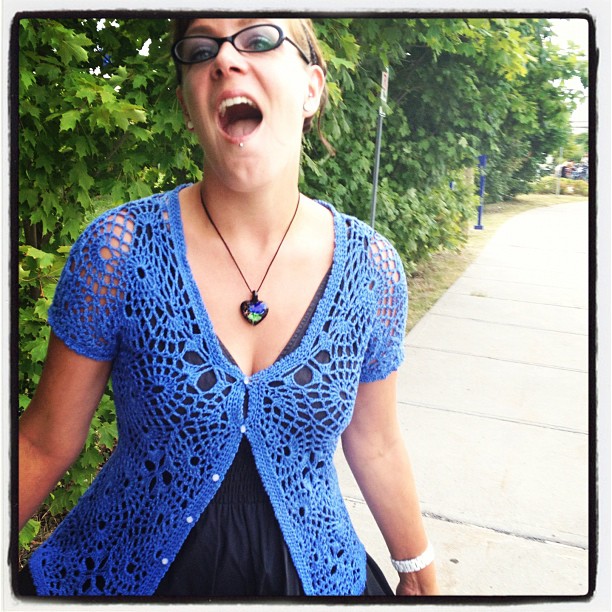 Aussi en / Also in
Français